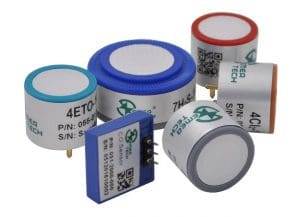 Formaldehyde is a colorless, flammable gas with a strong odor, and exposure can cause many adverse health effects including cancer.
Exposure to formaldehyde is more common than one might realize, as it's found in many everyday products such as building materials and insulation, fertilizers and pesticides, resins used in the manufacture of wood products, household products (glue, paints, paper products), preservatives, etc.
This is why it's imperative to have an accurate formaldehyde sensor, and SemeaTech has an Electrochemical CH2O-10 Sensor (4 series) designed for the measurement of formaldehyde concentration in gas phase.
Fei Shen, CEO of SemeaTech, explains that the problem with some sensors is that they have a higher cross sensitivity to other gases like carbon monoxide, ethylene, methyl alcohol, etc.
"Our sensor has a very minimal cross sensitivity to these gases, and the fewer other gases the sensor responds to, the better the performance," he said. "This, combined with the fact there is no bias voltage requirement to warm up the sensor before the initial use, makes it an ideal option."
Brent Yaschuk, Principal Sales Director at Scout Innovations LLC in Texas, anticipates that since formaldehyde is so prevalent in many industries ranging from medical to food processing to furniture manufacturing, there will be significant interest in the sensors.
"These are among the most popular sensors on the market, and Scout Innovations is looking forward to working with our customers to enhance their safety protocols with this high-quality equipment," said Yaschuk.
There are two standard platforms, 4 and 7-Series available, and each has two variations of the sensor to choose:
The detection range of a 7-series sensor can be tailored based on customer requirements.
These formaldehyde sensors can be paired with SemeaTech Smart Modules for I2C and UART outputs for a more optimal user experience. The Smart Modules are embedded with firmware to compensate for the environmental variations for maintaining the accuracy of the sensor readout.
Contact Brent Yaschuk for more details at 832-304-1793 or email: brent@scoutinnovationsusa.com.